About the company
Vidaflag d.o.o. is Slovenia's leading company in the production of visual communications.
The company has a 30-year tradition in making flags, poles and other communication tools.
The beginnings date back to 1987, with the production of leaflets, the printing on T-shirts and Plexi boards for light inscriptions.
After ten years of operating, the production moved to larger premises in Medvode where, due to the increased demand for printing on textile goods, we started to produce flags, signs, poles and light advertising inscriptions.
After almost 25 years of operation, we moved to new, larger premises in Goričane due to the increased volume of work.
We use materials of proven quality in our work as we believe that customer satisfaction comes first, while a well-made product is a great reference for the company.
Our products are found all over Slovenia as we cooperate with the Government of the Republic of Slovenia, Universities, municipalities, embassies, as well as advertising agencies, Slovenian and foreign companies, and our products can also be traced across the borders of Slovenia – in Austria, Australia, France, Italy, J. Korea and the United States.
Vidaflag d.o.o. is a team of 20 professionals. On larger projects we also collaborate with outsourcers.
We are happy to dedicate our time to you and help your vision come to life.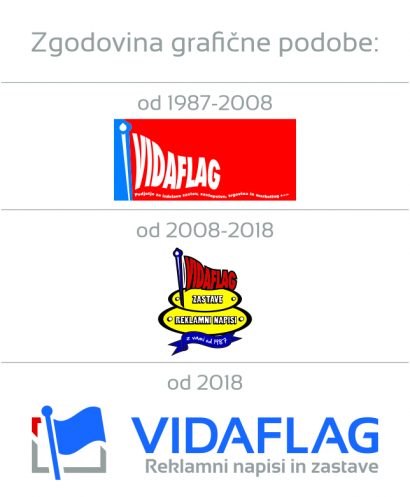 We are trustworthy